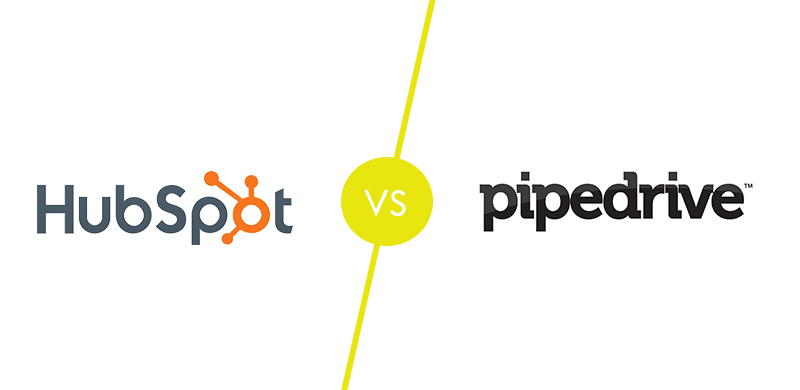 Pipedrive vs Hubspot – Which CRM is best for your business?
Any business of any size needs some sort of CRM system. It's vital for managing sales and marketing and making the most of potential leads. But with so many on the market how do you choose? In this article we compare two of the most popular CRM systems: Pipedrive and HubSpot.
Pipedrive – who's it for?
It's best suited to SME's, currently Pipedrive's serves over 100,000 businesses across 179 countries.
Why is Pipedrive so popular?
Its popularity is down to its intuitive design. It's easy to use and ideal for first time CRM users. It offers drag-and-drop unlimited pipelines, a customisable reporting dashboard and personalised reports that can viewed within the CRM or exported to Excel.
Pipedrive advantages
Pipedrive is a cloud-based CRM, meaning that it can be accessed anywhere with an internet connection and has automated workflows for sales processes. There are strong calendar and email integrations with popular applications such as Google and Outlook alongside other common programs such as MailChimp, Trello and Zapier.
One of the best things about Pipedrive is the ease with which you can manage deals. While it starts with a default deal pipeline that should be adequate for most businesses, it's simple to add as many steps as needed as well as dragging and dropping deals from one stage to another as the sale progresses.
It boasts thirty workflow templates that can be edited to meet the organisation's individual needs and also offers the option for e-signing documents for quick sales confirmations using integrations such as Docusign.
Pipedrive downsides
Nothing is perfect, and there are a number of drawbacks to Pipedrive. Pipedrive offers limited email marketing tools and there are no project management features, which is why integrating with programs such as MailChimp and Trello can be beneficial. There are also additional charges for webforms and chatbots.
Pipedrive pricing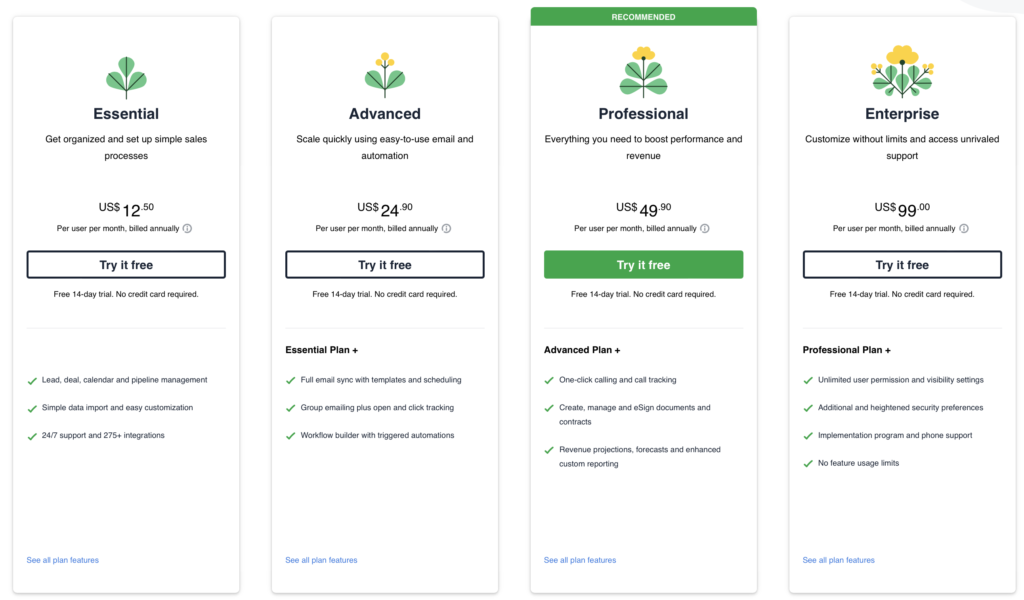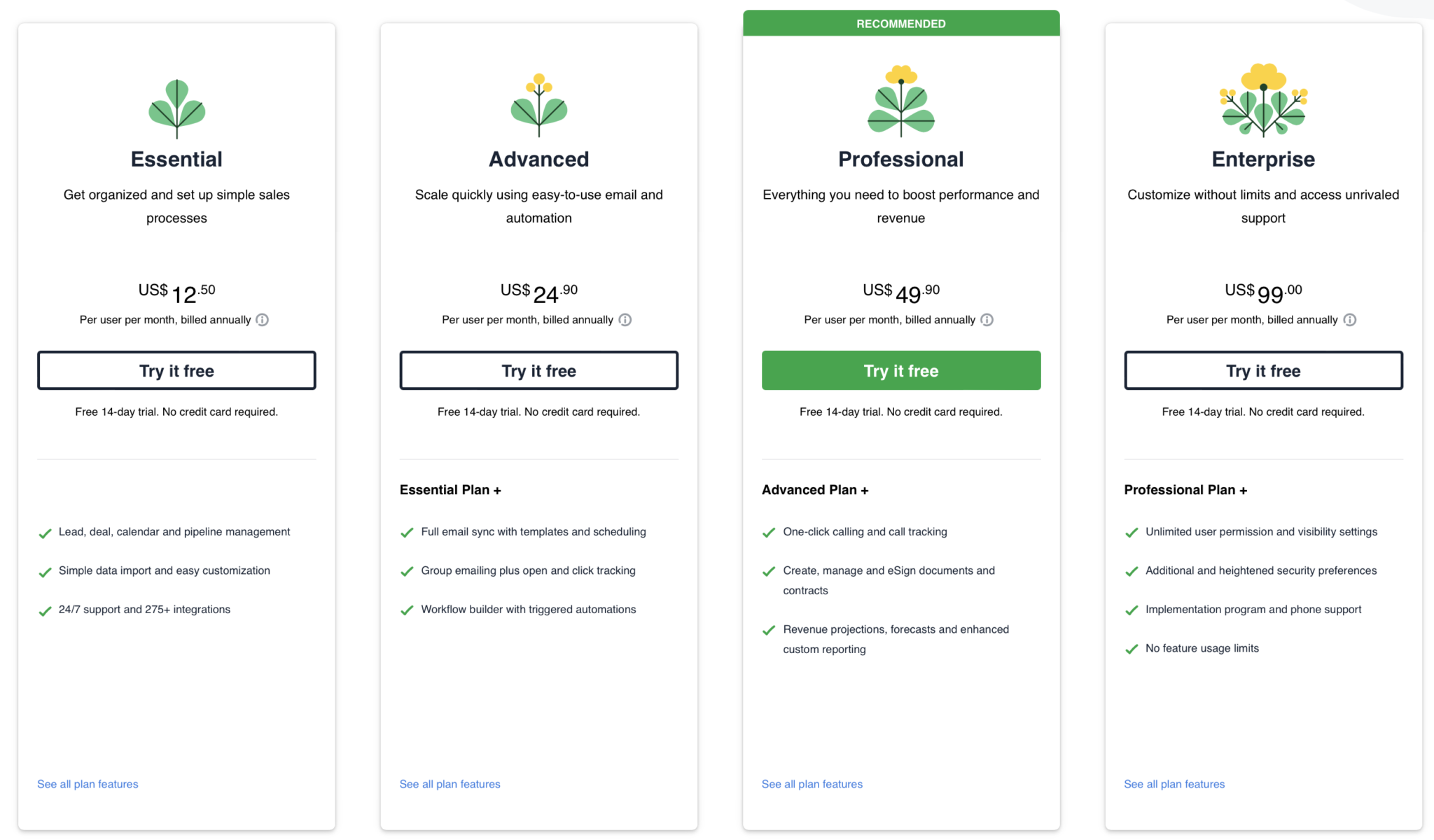 Pipedrive offers a range of plans starting at just $14.50 or £12.50 per month per user on its Essential plan. This allows for 3,000 open deals and customisable reports but does not include email integration or workflow automation. For these functions and increased numbers of open deals, users need to upgrade. The Advanced option priced at £24.90 per user offers 10,000 open deals, thirty automated workflows plus email integration. Enterprise, the most expensive package bills at £99 per month per user. Plans can be paid annually or monthly.
There are other features that can be added to the basic program, such as Leadbooster. This adds simple webforms and live chat features to your website. There's also a web scraping tool that enables users to identify potential clients from over 400 million online profiles.
HubSpot – why is it so popular?
HubSpot is an intuitive CRM that requires minimal technical knowledge to set-up and implement. It also offers a highly competitive free-forever plan that includes most of its functionality and allows for 1 million contacts and unlimited users.
Hubspot advantages
Like Pipedrive, HubSpot is cloud based making it accessible anywhere and everywhere. It's suitable for companies of all sizes, although probably best suited to SMEs. It's ideal for both B2B and B2C organisations, and all types of industries from accountancy to marketing agencies through to construction companies.
HubSpot has a wide range of features, which include outbound and inbound marketing, sales automation and pipeline management, CRM, email tracking, lead management, and contact management.
Customer interactions can be tracked automatically whether that contact has been made by email, social media, live chat or phone. All of these details are stored in a realtime timeline organised by lead. The shared inbox feature means that all contacts with customers are stored in one place, accessible by the whole team.
Unlike Pipedrive, HubSpot includes email marketing automation that also allows for campaign success tracking, making calculating success rates and return on investment a doddle.
HubSpot also integrates with five other HubSpot tools: Sales, Marketing, Customer Service, CMS, and Operations. When setting up HubSpot it asks a series of questions to determine how you intend to use the system and provides a guided tour of each Hub. Each of these can be purchased separately or bundled together at a lower cost.
HubSpot also allows integration with around 300 popular applications, although it's worth noting that some of these are only available with paid-for plans.
Hubspot downsides
There aren't many downsides to HubSpot. One identified disadvantage is that there's no telephone support on the free package, but this is mitigated by the HubSpot Academy which includes instructions videos on how to use the various features.
There's also criticism that the paid-for plans are somewhat expensive and include the unnecessarily complex Hub system, although even the basic plan, the Starter Bundle, includes all five Hubs.
For some users, the inability to book recurring tasks is also a problem, for example, if you want to remember to call a customer weekly or monthly, these need to be entered manually.
Hubspot pricing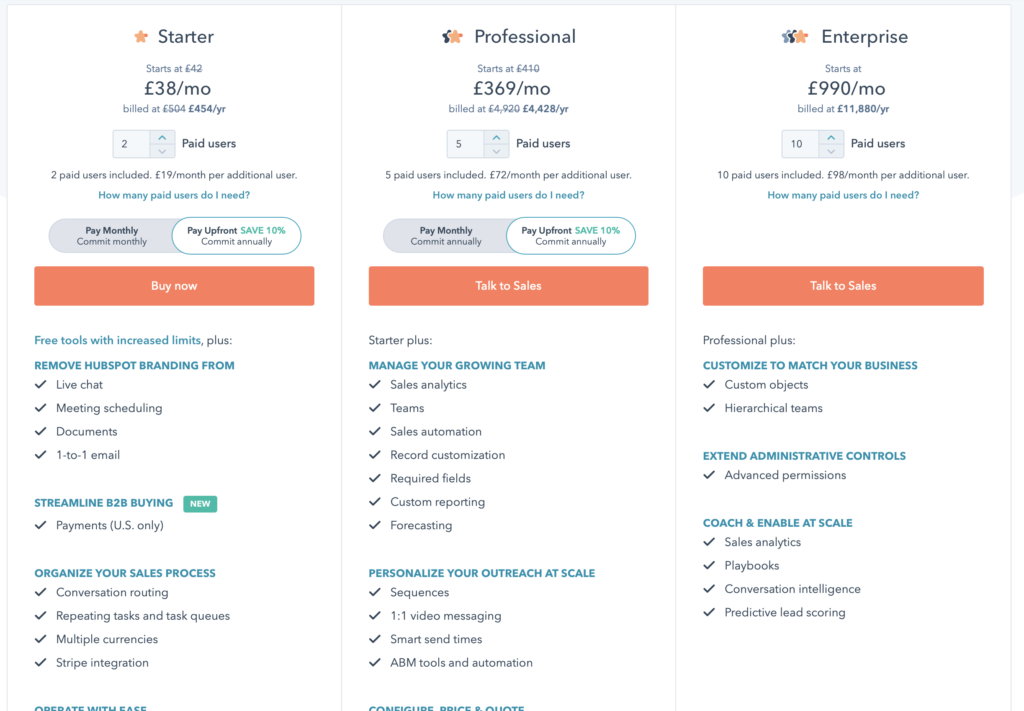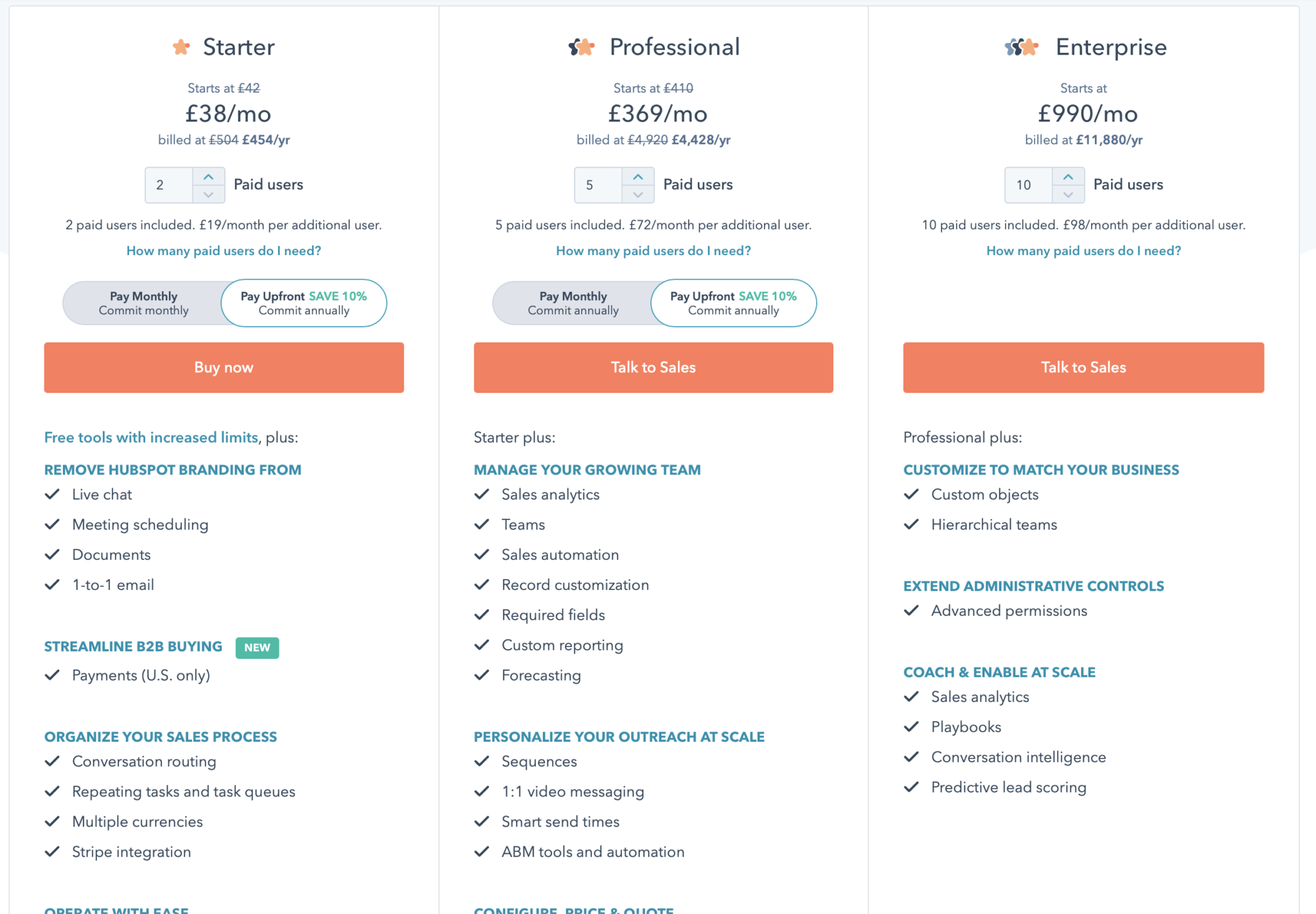 HubSpot is more expensive than Pipedrive. The Starter Bundle starts at $45 or £38 a month, if paid for annually, rising to $50 or £42 a month if paid in installments. This includes licences for two users with an additional £19 charge per additional user, and comprises all five Hubs.
The Professional package jumps to £410 a month, with five user licences included and an additional £72 per person for more than five personnel. Enterprise is £990 per month with ten licences included and £98 per month for additional users.
What's the verdict?
As always, it really depends on what the user is looking for, but HubSpot's free, unlimited package is highly rated within the industry for its functionality and ease of use. While there are some downsides, these are minimal. The only real problem is that if users want to upgrade, HubSpot is far more expensive than Pipedrive.
Pipedrive offers a simpler pricing structure and is far cheaper than HubSpot, as well as offering much of the functionality. Pipedrive really excels as a sales focused CRM, helping users keep on top of their opportunities and consistently moving deals further through the sales pipeline. As sales professionals, this is why we rate Pipedrive so highly. 
Both platforms are incredibly powerful when configured appropriately for your organisation. If you'd like to chat to us about how to maximise the benefits of your CRM please reach out to us below.